Innovation Fellowship
Graduate students and staff from any unit or department at the University of Maryland can join the semester-long Innovation Fellows program to learn innovation mindsets, tools, and processes that are relevant to their professional, academic, and personal lives.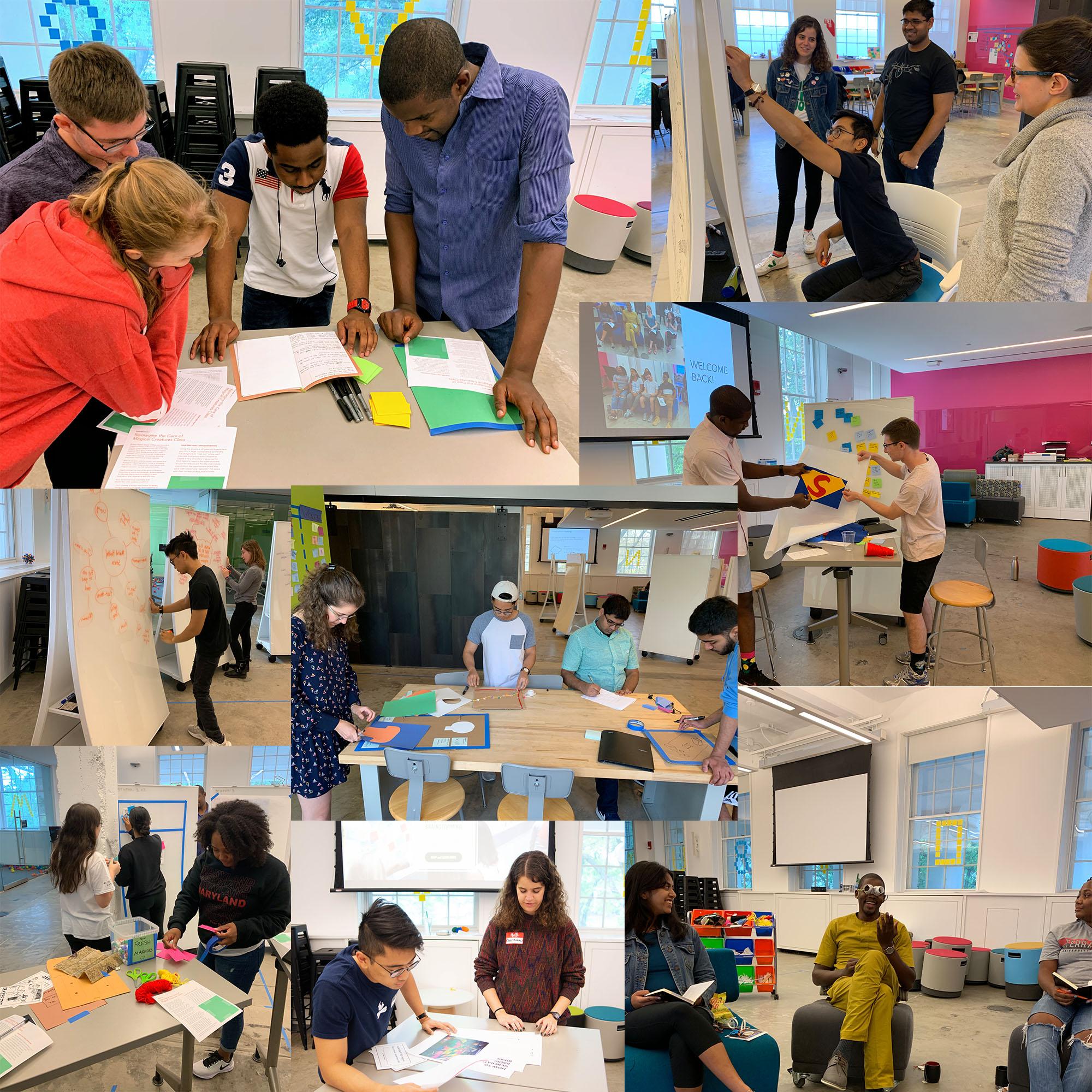 The Academy for Innovation & Entrepreneurship's (AIE) mission is to engage all 40,000+ UMD students in innovation & entrepreneurship (I&E) experiences to prepare them to tackle the world's toughest problems. We work with people across campus to be more human-centered, prototype-driven, and radically collaborative in their work.
Since 2018, AIE has offered UMD graduate students an opportunity to learn innovation techniques, such as design thinking and lean startup, as part of the Graduate Innovation Fellowship. We've now expanded the program to include UMD staff!
How to participate
UMD staff and graduate students can participate in the Innovation Fellowship in either of the semester-long experiences detailed below. Note: Click each offering below to expand and read more
Overview
Learn design thinking tools and mindsets to create change in meaningful ways and cultivate your creativity in this dynamic, hands-on course. Engage in navigating ambiguity in productive ways by applying design tools and techniques to learn from others, synthesize qualitative data and experiment with new ideas. In this course, you will practice collaborating with a team on a design project and develop your intuition for designing a team's design work.
Prerequisite: None. Open to anyone who's interested, no prior experience required!
Note: In person attendance is required at all meetings as is the completion of ~1 hour of asynchronous work during alternating weeks.
The Details
In-person meetings
Fridays @ 10:00 am–12:00 pm EST at ESJ 2101 for the following dates: January 27, February 10, February 24, March 10, March 31, April 7, April 21, & May 5
You'll apply design thinking tools and methods on a team design challenge. You will learn through an experiential learning model where you will actively experience and experiment with course concepts.
Asynchronous work
~1 hour per week
Reflection and self-assessments will be assigned in alternating weeks. Reflection is an important part of the learning process. It helps you process what you're learning as well as find relevance to and make connections between course materials and how they might apply to you academically, professionally, and personally.
Overview
Apply design thinking / innovation tools on a project of your choosing. You'll devise your own project plan, learning outcomes, and milestones, and engage in relevant field work. You'll also participate in learning community sessions with peers to provide and receive mentorship, coaching, and accountability that supports each other's learning and emerging design practices.
Prerequisite: Some prior experience with design thinking, human-centered design methodologies, or User Experience/User Interface Design, gained through coursework, boot camps, workshops, or other Innovation Fellowship programs (i.e. Becoming a Design Thinker).
Note: In person attendance is required at all learning community meetings, including (dis)Orientation. Amount of time spend on fieldwork and in Coaching 1:1s will be individually determined by the facilitator(s) and Fellow at the beginning of the semester.
The Details
(dis)Orientation
Friday, Feb. 3, 9:00 am–12:00 pm | ESJ2101 (The Loft)
In this orientation to the learning community sessions, you'll meet and get to know other cohort members, undertake a mini design project, and share out your preliminary project idea(s).
Learning Community meetings
Alternating Fridays, 10:00 am–12:00 pm | ESJ2101 (The Loft)
Meetings will occur on February 17, March 3, March 17, March 31, April 14 and April 28.
During these sessions you'll meet with other fellows (graduate students and staff across campus). You'll provide and receive mentoring, coaching, and accountability that supports each other's learning and emerging design practices. Attendance is required.
Fieldwork
Ongoing, 1–5 hours per week*
Initially, you'll use this time to frame your design problem and in so doing create your own project plan, learning outcomes, and milestones to determine what shape your project will take across the semester. Example milestones include qualitative research (e.g. interviews, observation, participant observation), workshop design + facilitation, prototyping, etc.
*Amount of fieldwork varies according to method of participation. See below for more details.
Coaching 1:1s
You'll meet with one of the facilitators individually throughout the semester to get support on your project and individual goals. Date, time, and location (e.g. in person or virtual) will be determined based on the individual and facilitator's availability and preferences.
Learn more about the Innovation Fellowship!
Email us with questions or or schedule a convo to discuss your goals, interests, and participation in the IF offerings.